Cities: Skylines Digital Edition (PC/Mac)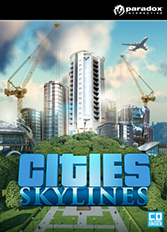 Plattform:

Stichworte: RPG
Produktbeschreibung
The Deluxe Edition:
Included in the Deluxe Edition are 5 In-game historical monuments from around the world, the games original soundtrack as well as a digital art book.
Five in-game items include:
Statue of Liberty
Eiffel Tower
Brandenburg Gate
Arc de Triomphe
Grand central terminal
Original Soundtrack:
This Original Soundtrack includes 14 unique tracks mixed from the ambient music of the game, allowing you to enjoy the wonderful music whenever you want.
Digital Art book:
See the concepts behind the buildings! The book features almost a 32 hand drawn concepts of the game various buildings and the story behind each.
Cities: Skylines is a modern take on the classic city simulation. The game introduces new game play elements to realize the thrill and hardships of creating and maintaining a real city whilst expanding on some well-established tropes of the city building experience.
From the makers of the Cities in Motion franchise, the game boasts a fully realized transport system. It also includes the ability to mod the game to suit your play style as a fine counter balance to the layered and challenging simulation. You're only limited by your imagination, so take control and reach for the sky!
Multi-tiered and challenging simulation
Constructing your city from the ground up is easy to learn, but hard to master. Playing as the mayor of your city you'll be faced with balancing essential requirements such as education, water electricity, police, fire fighting, healthcare and much more along with your citys real economy system. Citizens within your city react fluidly, with gravitas and with an air of authenticity to a multitude of game play scenarios.
Extensive local traffic simulation
Colossal Order's extensive experience developing the Cities in Motion series is fully utilized in a fully fleshed out and well-crafted local traffic simulation.
Districts and Policies
Be more than just an administrator from city hall. Designating parts of your city as a district results in the application of policies which results in you rising to the status of Mayor for your own city.
Utilize the Day and Night Cycle
The city changes during the hours of the day and affects citizen schedules. Traffic is visibly slower at night and some zoned areas do not work with full efficiency. This expansion will put you in control of managing the different aspects of the day and night cycles.
Extensive modding support
Build or improve on existing maps and structures. You can then import them into the game, share them as well as download the creations of other city builders on the Steam workshop.
System Requirements
For PC:
MINIMUM:
OS: Microsoft Windows XP/Vista/7/8/8.1 (64-bit)
Processor: Intel Core 2 Duo, 3.0GHz / AMD Athlon 64 X2 6400+, 3.2GHz
Memory: 4 GB RAM
Graphics: nVIDIA GeForce GTX 260, 512 MB / ATI Radeon HD 5670, 512 MB
DirectX: Version 11
Network: Broadband Internet connection
Hard Drive: 4 GB available space
RECOMMENDED:
OS: Microsoft Windows 7/8 (64-bit)
Processor: Intel Core i5-3470, 3.20GHz / AMD FX-6300, 3.5Ghz
Memory: 5 GB RAM
Graphics: nVIDIA GeForce GTX 660, 2 GB / AMD Radeon HD 7870, 2 GB
DirectX: Version 11
Network: Broadband Internet connection
Hard Drive: 4 GB available space
For Mac:
MINIMUM:
OS: OS X 10.10 OS X 10.9 OS X 10.9 (64-bit)
Processor: Intel Core 2 Duo, 3.0GHz / AMD Athlon 64 X2 6400+, 3.2GHz
Memory: 4 GB RAM
Graphics: nVIDIA GeForce GTX 260, 512 MB / ATI Radeon HD 5670, 512 MB
Network: Broadband Internet connection
Hard Drive: 4 GB available space
RECOMMENDED:
OS: OS X 10.10 OS X 10.9 OS X 10.9 (64-bit)
Processor: Intel Core i5-3470, 3.20GHz / AMD FX-6300, 3.5Ghz
Memory: 5 GB RAM
Graphics: nVIDIA GeForce GTX 660, 2 GB / AMD Radeon HD 7870, 2 GB
Network: Broadband Internet connection
Hard Drive: 4 GB available space
For Linux:
MINIMUM:
OS: Ubuntu 14.04 64-bit Ubuntu 14.10 64-bit Ubuntu 12.04 64-bit Ubuntu 14.04 (64-bit)
Processor: Intel Core 2 Duo, 3.0GHz / AMD Athlon 64 X2 6400+, 3.2GHz
Memory: 4 GB RAM
Graphics: nVIDIA GeForce 8800, 512 MB RAM or ATI Radeon HD 3850, 512 MB RAMnVIDIA GeForce GTX 260, 512 MB / ATI Radeon HD 5670, 512 MB
Network: Broadband Internet connection
Hard Drive: 4 GB available space
RECOMMENDED:
OS: Ubuntu 14.04 64-bit Ubuntu 14.10 64-bit Ubuntu 12.04 64-bit Ubuntu 14.04 (64-bit)
Processor: Intel Core i5-3470, 3.20GHz / AMD FX-6300, 3.5Ghz
Memory: 5 GB RAM
Graphics: nVIDIA GeForce 8800, 512 MB RAM or ATI Radeon HD 3850, 512 MB RAM
Network: Broadband Internet connection
Hard Drive: 4 GB available space